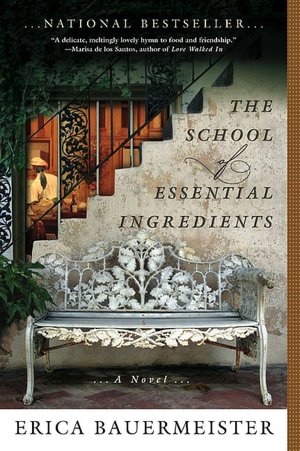 I picked up this book a long time ago as a gift for my mom then forgot all about it. I happened across it recently though, just in time for Mother's Day! But I also wanted to read it first, both to make sure that she would like it and to give us something to share. I always enjoy discussing books, particularly special stories like this one.
The story is centered around a cooking class, which was the main reason I picked it up. I love food-related books, but you don't see them too often in fiction. Erica Bauermeister definitely has a way with words when it comes to food, but it's not a recipe-style story like other food books. She just uses beautifully descriptive prose that honestly will make your mouth water. I did pick up a few interesting food tidbits along the way though, and it inspired me to try making my own corn tortillas for the first time with a small amount of success!
The cooking class is the theme, but the story lies in the people in it. Each character gets a section of the book where their story is told, although as it continues their lives become more intermingled. There is joy, heartbreak, loss, innocence, love, you name it – I both laughed and cried my way through it. She really draws you into each of their stories, and is excellent at keeping the flow going so it still seems like a cohesive novel.
I definitely recommend checking this one out, particularly if you are into food, or as a present for a foodie that likes to read. I also advise not reading on an empty stomach if you don't have a snack readily available! You can find it on Amazon here.
Happy reading!